This post brought to you by No nonsense. All opinions are 100% mine.
Winter weather in New England makes style compete dearly with comfort (staying warm often takes precedence!).
So I love having layering options like No nonsense tights and leggings to extend the use of some of my skirts during winter.
I received a pair of green opaque tights and espresso leggings from No nonsense. Check out two outfits I created for winter with my new legwear!
Don't you love the bright pop of color in the green tights? Just the thing to keep a fashion forward foot, er, leg this winter!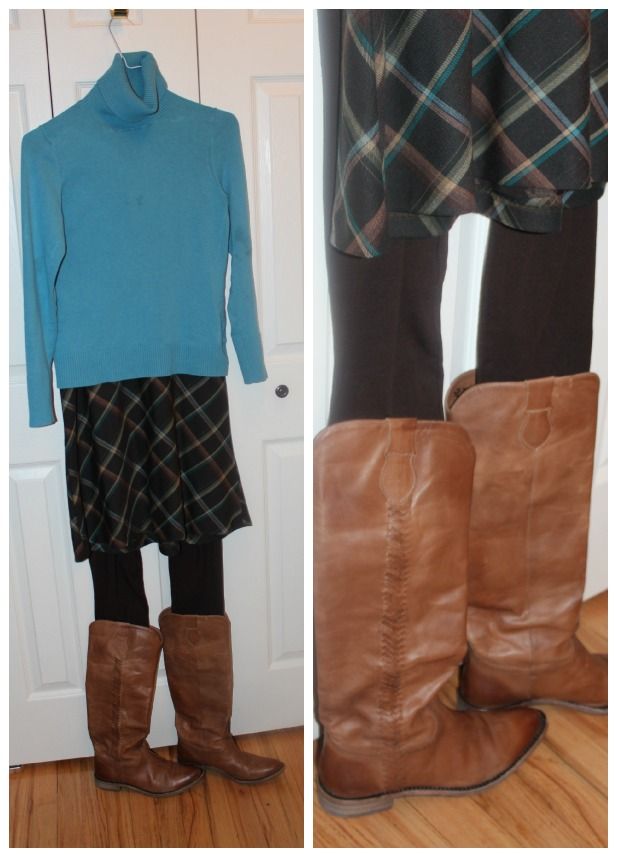 The leggings are slimming and work great under any garment. I especially like them paired with boots because then I can add a thicker sock on the bottom to keep my feet warm.
You can find No nonsense tights and leggings at most retail and food and drug stores. It's nice to know that in a pinch you can stop in to a nearby store and add a layer to your outfit or a touch of color! The best part is they are so affordable, making it easy to update last year's fashions for just a few dollars!
Now, No nonsense has partnered with Jill Martin, TV personality who also wrote the best-seller I Have Nothing To Wear! (Sounds like me every day!). Jill will be tweeting fashion tips and also hosting a sweepstakes where one winner gets to meet her in NYC for a shopping spree!
Check out this video to see how easy it is to add a pop of color to your wardrobe!
Visit No nonsense on Facebook or Twitter to stay informed on all this brand has to offer!
What's your fashion tip for winter? Are you a fan of basic black or colored tights and leggings?